Defining Water Management Report
Visit ATEEC's products section to download a free copy of our Defining Water Management report.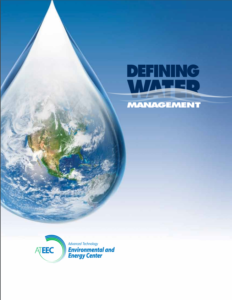 The Defining Water Management report validates and updates occupational information with input from business, industry, educators, technicians, and researchers. It defines the water management field and identifies occupational categories and job functions.
Defining Water Management Chart
The "Defining Water Management" careers chart provides a snapshot view of water technology careers at the technician level.
ATEEC has collected information from expert practitioners and educators in the field to generate the Defining Water Management report, distilling a wide-ranging field of occupations into an easy-to-understand overview of the water management field technician occupations and job functions. The chart from this report is provided here as a poster to use as a quick reference to the water management field for students, technicians, employers, and educators.