Eastern Iowa Community Colleges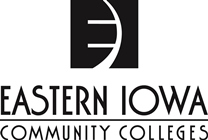 The Eastern Iowa Community College District (EICCD) is the sponsoring institution for ATEEC. EICCD consists of three college campuses: Clinton Community College, Muscatine Community College, and Scott Community College. The District strives to provide accessible quality educational programs and services which anticipate and respond to personal and community needs and expectations. These efforts will reflect an active commitment to excellence, to lifelong learning and to cooperation with all segments of the community.
For more information, visit http://www.eicc.edu.
Nahant Marsh Education Center
Most people in the Quad Cities have passed the Nahant Marsh without realizing it. The marsh is a 513-acre area next to the Mississippi River in southwest Davenport, Iowa. The marsh area encompasses different wetland community types including bottomland forest, open-water habitat, and a marsh—all surrounded by suburban, industrial, and agricultural land. Find out more about one of the Quad Cities' hidden treasures.
For more information, visit http://www.nahantmarsh.org.
Hazardous Materials Training and Research Institute
The Hazardous Materials Training and Research Institute (HMTRI) is an environmental health and safety education and training organization established in 1987. The purpose of the Institute is to promote worker protection and the maintenance of a clean and safe environment through education and training. HMTRI is recognized as one of a select number of national centers for excellence by several federal agencies including the Environmental Protection Agency, the National Institute of Environmental Health Sciences, and the National Science Foundation.
For more information, visit http://www.hmtri.org.
Partnership for Environmental Technology Education
The Partnership for Environmental Technology Education (PETE), a non-profit 501(c)(3) organization, helps facilitate, augment, and broker partnerships with educational institutions, industry, and government.
Six regional independent partnerships make up the PETE network. Serving the 50 states, Puerto Rico, and the U.S. territories, the PETE network includes over 500 community and technical colleges, representing one-third of America's two-year institutions. Business, industry, and governmental agencies are integral to the PETE network also.
PETE's central belief is that education is the key to long-term environmental quality and economic stability. PETE is the framework, which allows educators to develop. From the student to the teacher to the environmental professional, PETE provides the resources and knowledge to establish strong environmental practices and programs.
For more information, visit http://www.nationalpete.org.
---
Our Funding Partners
National Science Foundation
The National Science Foundation (NSF) is an independent federal agency created by Congress in 1950 "to promote the progress of science; to advance the national health, prosperity, and welfare; to secure the national defense…" NSF is the only federal agency whose mission includes support for all fields of fundamental science and engineering, except for medical sciences. It is tasked with keeping the United States at the leading edge of discovery in areas from astronomy to geology to zoology. So, in addition to funding research in the traditional academic areas, the agency also supports "high-risk, high pay-off" ideas, novel collaborations and numerous projects that may seem like science fiction today, but which the public will take for granted tomorrow. And in every case, NSF ensures that research is fully integrated with education so that today's revolutionary work will also be training tomorrow's top scientists and engineers.
For more information, visit http://www.nsf.gov.